January feature: What does a QA do?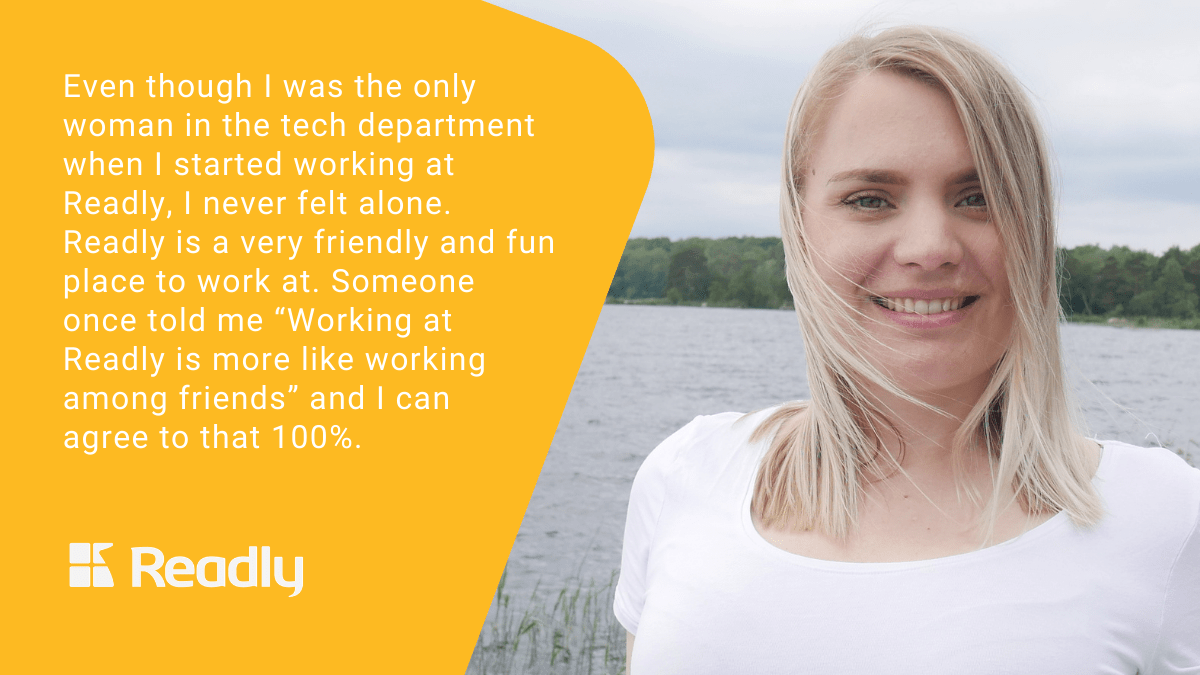 Farina Frost, QA at Readly since 2017, Växjö Office
What does a QA do? … and what led you to choose this profession?
To me working as a QA is a very multifaceted profession in which the main responsibility is the detection and resolution of problems. You have a direct influence on the product development, which makes it so much fun.
I cannot quite say that I chose to become a QA, it was rather the profession that chose me. I was searching for something that was fitting my personality, giving me creative freedom and satisfying my curiosity and analytical thinking but would also allow me to work within different teams and projects.
What do you think companies can do to encourage more women to choose careers in tech?
In my opinion it is important to start early. I didn't even think that I would ever work in tech. My interest got caught due to some kind of "guidance day" at school when I was about seventeen.
Tech is so much more than writing code. I think it's important to highlight that you can do so many different things and it is a perfect place for people that love to work in a growing and always changing environment. It never gets boring!
What makes Readly a great workplace for women in tech?
Since I worked at Readly I never had the feeling that it made a difference where you come from or which gender you are. Being a woman, man or unicorn never made a difference. The only thing that matters is your personality, skills, attitude and willingness to learn new things. Being open-minded and also respecting different opinions are anchored in our principles. Even though I was the only woman in the tech department when I started working at Readly, I never felt alone. Readly is a very friendly and fun place to work at. Someone once told me "Working at Readly is more like working among friends" and I can agree to that 100%.
Readly's purpose is to bring the magic of magazines into the future - what does that mean to you personally?
Well, we live in a digital world. The publisher industry is a very big and old industry and still not yet fully adapted to that and that is something that needs to happen now. But just making magazines digital is not the solution. Converting the spirit of magazines in a digital way is for me the true challenge - it gives us so much more possibilities that a paper cover can't give to us. There is a lot of technical magic under the hood.
I am excited to be part of that journey and support our users and publishers in any possible way to experience a wholesome and enjoying reading experience but also open up thousands of magazines to the rest of the world whenever you feel like it.